THE NEXT GENERATION OF ANTIBACTERIAL TECHNOLOGY
ZOONO®'s ground-breaking hand, surface and fabric sanitisers keep working long after they are applied.
ZOONO® has been proven to remain active on the skin for up to 24 hours and on surfaces for up to 30 days.
With ZOONO®'s long-lasting shield you can go about daily life with extra peace-of-mind that you're protected from germs on people and surfaces all day long.
How does ZOONO® work?
Up close, the ZOONO® shield looks like a layer of tiny pins that cover a surface. When germs touch the surface, they pop and are destroyed. What's more, this clever popping action has been proven effective against a wide range of pathogens.
ZOONO works by coating the surface with a layer of positively charged molecular pins.
This protective layer attaches to the surface using a covalent bond which then attracts and kills negatively charged pathogens by rupturing their cells.
When pathogens touch the surface, they pop and are destroyed, which means they can't affect you and they can't evolve into superbugs.
What's more, this clever popping action is effective on 99.9% of bacteria and has also been proven against a
range of viruses.
How can you be sure it works?
Our unique technology is a vital part of some of the strictest hygiene protocols around the world and has been tried and trusted by 1,000's of industries for over 12 years.
From airlines to manufacturing and healthcare to childcare, numerous industries around the world are discovering the sanitisation benefits of ZOONO®.
In March 2020, ZOONO® was identified by global media as one of the most innovative sanitising solutions available, and since then hundreds of thousands of people have incorporated ZOONO® into their daily lives.
If hygiene is important to you and your business, we'll be happy to help. For more information, please reach out to our friendly customer service team.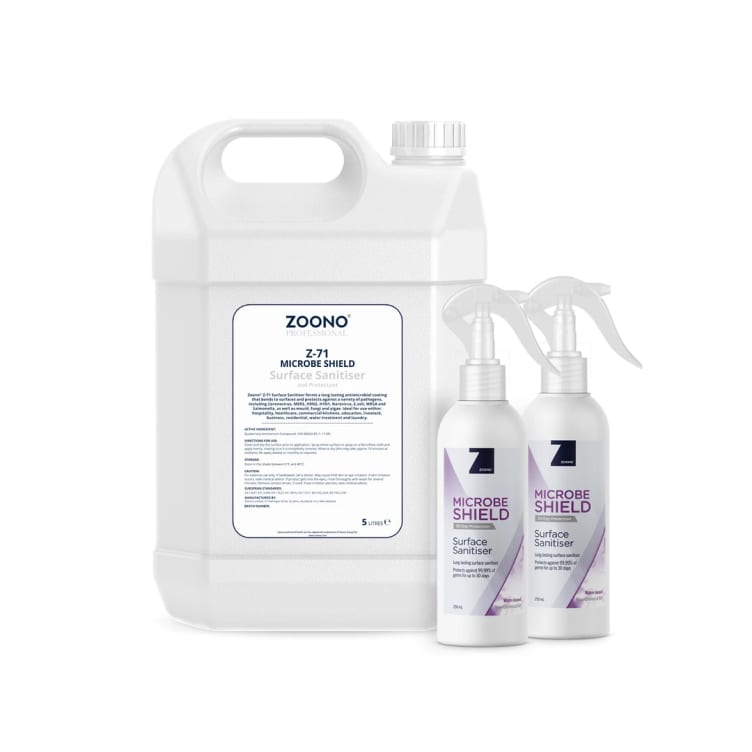 ZOONO®'s protective shield has been proven to kill 99.9% of germs on the skin for up to 24 hours and germs on surfaces for up to 30 days.
Our water-based, alcohol free products can be used by all, and our hand sanitiser has been dermatologically tested.
Our Surface Sanitiser & Protectant has food safety approvals in Australia and New Zealand.
ZOONO®'s innovative germ popping technology is proven effective against a wide range of bacteria and viruses.
The long list of efficacy test passes include PAS2424, EN13697, EN1276 and EN1650.
ZOONO® has had to pass several efficacy tests to be approved by some of the world's most trusted organisations. Companies that put their people and customers first are rushing to incorporate ZOONO® into their strict hygiene protocols.
Doesn't Wash or Wipe Off:
ZOONO® provides extra peace-of-mind even after regular handwashing and routine cleaning.
:
Technological Revolution
ZOONO®'s unique technology is only available from ZOONO® directly or a Zoono® Authorised Partner.